Tile Roofing Repair, Replacement, and Re-setting
---
City Seamless Roofing can give you the best advice when it comes to repairing or replacing your tile roof.
Have you noticed anything strange about your roof? Have tiles become broken or dislodged? Are you seeing a leak somewhere?
Most tile roofs have a 20 year lifespan. Although the tile itself may last 30 or even 50 years, often the underlayment and flashings don't last that long. Unfortunately, many of the companies doing roofing have not prided themselves on doing the job right, and have therefore left vulnerabilities in the roofs they have done. City Seamless Roofing is here to fix that problem.

Schedule an Appointment

City Seamless proudly offers the best Warranty available for any roofing system, and will go the extra mile to make sure your roof is done right.
Common Questions Regarding Clay and Concrete Tile Roofing.
How do I know if I need a new tile roof?
If your tile roof is more than 20 years old, or if you are noticing some of the tiles have shifted, been broken, or perhaps even been blown off, then it would be an excellent idea to have a free roof inspection done.
Ready to get going on your roofing project?
---
Submit this form and expect a call very soon.
Since 1976, City Seamless Rain Gutter Company has been a Leader in the Siding and Roofing Industry. We are licensed and insured and provide quality Roofing services at very competitive prices. And we proudly offer the best warranty in the business.
We're here to help!
City Seamless Service Areas
We are available for residential roofing projects throughout the southwest, including Nevada, Utah, California, Arizona, and New Mexico.


Make Your Appointment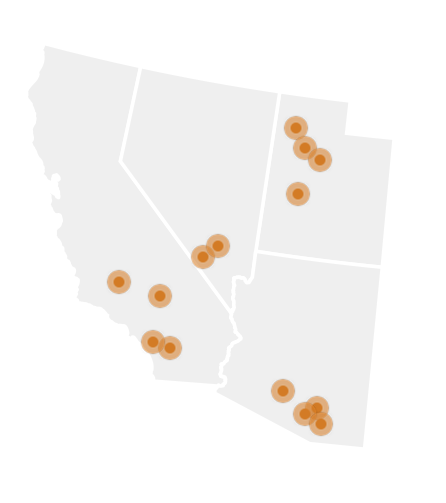 "When City Seamless came out to install my rain gutters, the installer let me know that I had some pretty bad damage to my roof. So I called them back to come out for a roof inspection. Cody came out the next day and was able to give me a thorough rundown of the issues, although we still do not know how all that damage occurred.
As always, they showed up when they said they would, were very meticulous in the removal of bad concrete tiles and replacement of the new felt, and the replacement of the section of roofing.
My kind of company.
If you need and inspection when you're buying a house or just because your roof is getting old and you have no idea what shape it's in, give City Seamless a call. They do service calls and complete re-roofing and new construction. In the spring I'm going to have them do a ridge vent to keep the attic cooler and ask for a quote on soffit vents, which I am told they also can do."